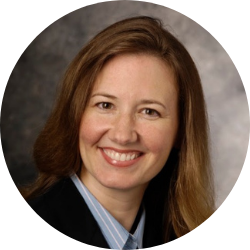 MU 524 Eurhythmics for the School Music Classroom
This is a 3-credit graduate course with a non-credit option available. The course is designed for music teachers, but teachers from other disciplines are welcome. We will learn kinesthetic approaches to teaching music concepts, ways to maximize classroom space, techniques for developing the child's ear, and activities that foster student expression and creativity through improvisation. Teachers will build competency in eurhythmics, solfege, and keyboard improvisation and have the opportunity to complete a portion of the AES Eurhythmics Certificate during the course.
https://music.colostate.edu/eurhythmics/
Contact: Dr. Bonnie Jacobi, bonnie.jacobi@colostate.edu
Speakers
Dr. Bonnie Jacobi

Coordinator of music education and the Director of the Colorado Kodály Institute.

Associate Professor of Music Dr. Bonnie Jacobi was recently invited to join the editorial board of the Journal of Historical Research in Music Education (JHRME). Founded in 1980, the Journal is an international, peer-reviewed music education journal published through SAGE Publications and housed within the National Association for Music Education (NAfME).

According to the publication's website, the JHRME is the "only music education journal whose topics focus solely on the diverse international history of music education including biographical, methodological, sociological, historiographical and qualitative studies of music teaching and learning."

Dr. Jacobi has been published in the Journal, including her paper, "Music in Higher Education for Females in Nineteenth-Century America." 46 (2001)

At Colorado State University, Dr. Jacobi serves as the coordinator of music education and the director of the Colorado Kodály Institute.

Steven Robbins

General Music Teacher, Texas Public Schools

Steven Robbins is a K-5 elementary general music teacher in Texas. He has utilized Eurhythmics in both the music classroom and in therapeutic environments. He is a Certified Teacher of Eurhythmics and a Master Teaching Artist with the American Eurhythmics Society.